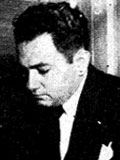 ELIAS, LEE ( Leopold) est né le 21 mai 1920 à Manchester en Angleterre. Il étudie au High School of Music and Art puis au Art Student League de New York. Au départ, son style est encore très influencé par celui de Milton Caniff. Il reprend Captain Wings, Firehair, Suicide Smith et Gale Allen pour Fiction House, en 1943 et réalise des illustrations pour Planet Stories en 1944.


---
Toujours pour Fiction House, il dessine Flint Baker and Reff Ryan Space Rangers et Lance O'Casey. Il quitte Fiction House en 1946 et travaille pour différents éditeurs dont Timely, Hillman et National/DC. Il illustre des bandes pour Hillman, Black Cat pour Harvey Comics, divers récits dans Rangers Comics en 1945, Turok, Cisco Kid pour Western Publishing, des récits d'horreur dans Goblin, Hot-Shot Charlie entre 1947 et 1951, Seabees, Black Pirates et des couvertures pour « True love problems and avice illustrated » (1949-51). Pour DC, il illustre des récits d'horreur dans All Flash (1948), Weird War Tales, House of Secrets ou Mistery in Space (1965) et The Black Canary, etc.
Lee Elias abandonne les comics après la calamiteuse campagne anti-comics menée en 1954 par Fredric Wertham et son brûlot "Seduction of the Innocent" qui utilise le personnage de Black Cat pour illustrer la dépravation de l'art du comic book. Dès lors, il se consacre au comic strip en devenant l'assistant d'Al Capp sur son fameux Lil'Abner en 1958-59 (publié chez nous dans Charlie-Mensuel)…Surtout, il a réalisé pour le New York Daily le Comic Strip Beyond Mars de 1952 à 1955 (texte de Jack Williamson). Par la suite, il retourne au comic book, principalement chez DC Comics travaillant sur Green Arrow, Cave Carson, Adam Strange, Flash, Hawkman, Adam Strange, Automan, Tommy Tommorrow, Ultra the Multi-Alien, The Three Musketers (traduits dans Tor en 1986) et Eclipso puis après 1972 sur des récits d'horreur… Pour Marvel il illustre Human Fly (Sagédition a édité deux albums de L'Homme Mouche dans la Collection Présence de l'avenir en 1980), Submariner, Spider-Man, Ghost Rider, Power Man entre 1974 et 1980 (publié par Artima en France entre 1978 et 1981), Daredevil, etc. Il a illustré des couvertures du Comic Book Terry and the Pirates et a assisté le dessinateur du Strip, George Wunder.
Pour l'éditeur Jim Warren, il a dessiné The Rook et Kronos en 1979. Plus récemment on lui doit la série Nauja (deux albums en France : La ballade de Raspa et La voix des Ombres en 2002). Il prend sa retraite en 1980. Il a enseigné à la New York School for Visual Arts puis à la Joe Kubert School.
Il est décédé le 08 avril 1998. En France, on trouve ses bandes dans les revues Artima/Arédit comme Aquaman, Jonah Hex, Les Super Amis, Sueurs Froides, Tor, Flash, Big Boy, etc.
Les autres dossiers
»
Lee Elias
»
Alfredo Alcala
»
Dave Cockrum
»
Don Heck
»
Alex Toth
»
Chris Claremont
»
Jean-Yves Mitton
»
Berni Wrightson
»
Todd McFarlane
»
Mike Mignola
»
Jim Lee
»
Gil Kane
»
Steve Ditko
»
Neal Adams
»
Gene Colan
»
Jack Kirby
»
Stan Lee
»
John Buscema